What to expect...
Our classes are back in full swing this month! And we've added many new exciting courses for you and your pup; some more difficult than others. Are you up for the challenge? Here's a bit more info!
Family Manners | 5 Spots | 5 Week Duration
A great class for any skill level, we go over the very basics of dog training and work towards having a dog that responds to cues promptly and with enthusiasm! Master this class and your pup will be on course to be the best behaved in the neighborhood.
Life Skills | 5 Spots | 6 Week Duration
This course is a step up from your average training course. We start to hone skills such as loose leash walking, proper greetings (for dogs and people), and focus on how to instill impulse control in even the most energetic of dogs. Your vision of walking your dog down a busy main street or sitting at an outdoor cafe can become reality!
Training Schedule
Classes for October are currently booked. New Schedule Coming Soon.
| | | |
| --- | --- | --- |
| Oct 8 | Puppy Kindergarten | 11:30am |
| Oct 13 | Family Manners | 7:00pm |
| Oct 20 | Life Skills | 6:00pm |
| Oct 24 | Family Manners | 7:00pm |
| | | |
| | | |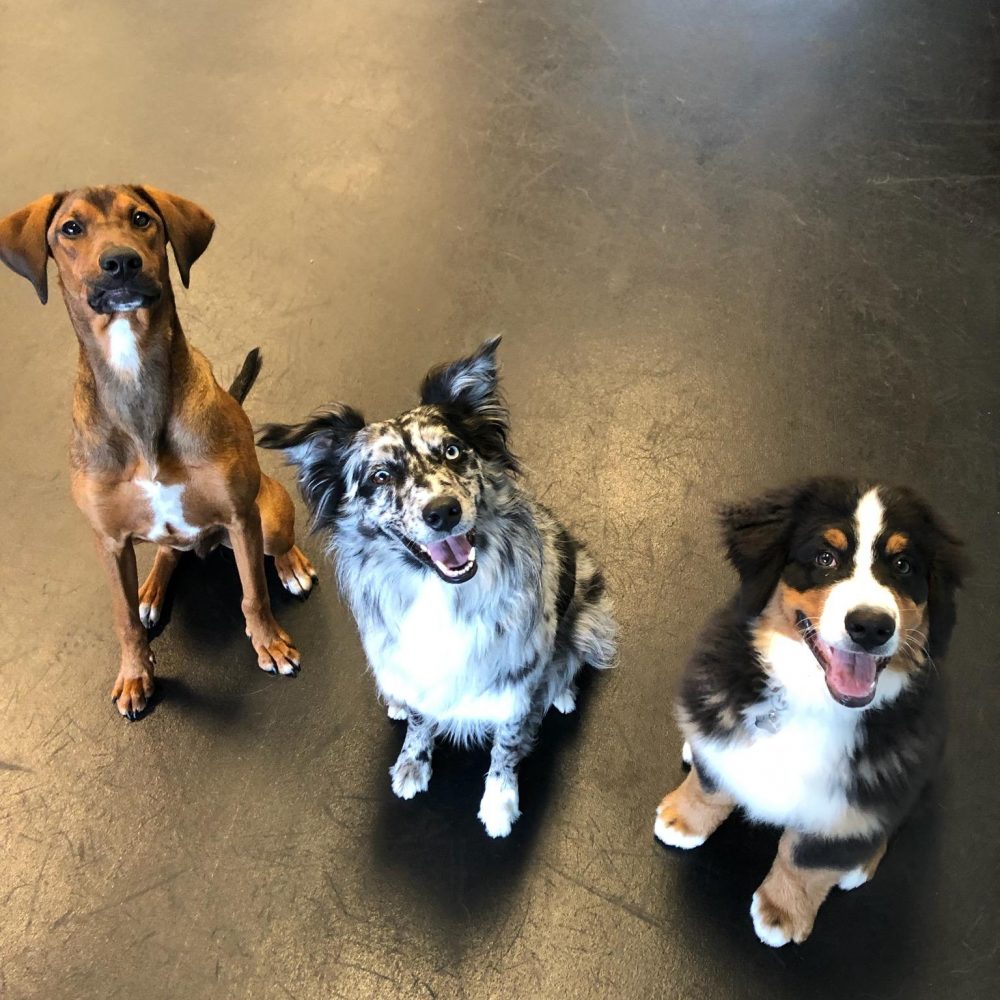 It is important to us that you enjoy training your dog as much as your dog enjoys learning new behaviors…. or unlearning the bad behaviors!
Off-Leash Clinic | 4 Spots | 6 Week Duration
Ever wonder if you could take your dog for an off-leash hike? We can get you there! Our overall focus is to build trust and communication between dogs and their owners through precise timing of reinforcement, handler discipline, and patience instruction. A great course for those simply looking to do more with their dogs or for the motivated individuals with mountains in their eyes, we'll get you and your pup on the road to being off-leash!
Confidence Course | 6 Spots | 4 Week Duration
For many dogs, the world can be a daunting place and it is easier to shy away from challenging obstacles rather than facing them head on. This course is designed to aid owners in boosting their dog's confidence in any situation; from simply walking down the street to navigating physical challenges such as uneven terrain. Primarily utilizing a training technique called "shaping", your dog will learn how to troubleshoot on their own, conquering any challenge that may come their way.
Puppy K | 5 Spots | 5 Week Duration
The Puppy K Program is essential for all owners with puppies. We focus on developing skills which will aid your puppy in becoming a well-mannered adult. Socialization with people, housetraining, crate training, nipping, potty training, and handling are just a few of the topics covered in this incredible class. We also offer plenty of supervised playtime for the puppies as this helps them develop proper socialization with other dogs. Your puppy will get a head start in name recognition, coming when called, sits and downs, and loose leash walking. The first few months of a dog's life are critical in how they will develop later on in life. With our Puppy K class, your dog will be on the right track to avoid behavioral issues such as fear, aggression, and anxiety. From new owner to pro, this class is for you!